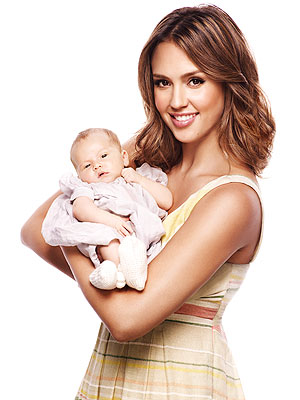 LAST August 13, 2011, proud parents Jessica Alba and Cash Warren brought second daughter Haven Garner into the world. And yesterday Jessica finally introduced the newborn to the public.
Click on the video to see Haven Garner.
In a recent interview by People, Jessica quipped, "I really only expected my child to look like Honor," referring to her three-year-old daughter. "When the two of us made such a different-looking kid it was, like, 'OK, I guess we can do this too!' It was a nice little surprise."
As for the baby's unconventional name, it stemmed from her being born in the caul, meaning, her head was inside the unbroken amniotic sac at the time she emerged. "Cash said, 'She was born in her safe haven,' Jessica tells of their name choice. "And so there we had it."
The mother-and-daughters trio were also recently spotted going out for lunch with Jessica's mother. Haven, who is now 7 weeks old, has just begun to smile, and we can soon expect to see her smiling more often for the camera, along with mom and big sister Honor.